Recently, Congresswoman-elect Deb Haaland of New Mexico's 1st Congressional District appeared on MSNBC's Weekends with Alex Witt, CBS's Face the Nation and ABC's Powerhouse Roundtable to discuss many issues, including Nancy Pelosi's potential new role as Speaker of the House.
When asked about Nancy Pelosi, Deb Haaland gave an unequivocal "yes" to Pelosi's speakership and commented that she is "the only person, I believe, that we need in this tumultuous time with the president that we have, to stay on track," and that Pelosi "knows how to keep Democrats unified." Haaland's support of the 78-year-old Minority Leader from California does not come as a shock since Pelosi has previously campaigned for her in New Mexico. 
With a new member of Congress from New Mexico so attached to saying "yes" to radical people like Nancy Pelosi, it begs the question of her autonomy as a congresswoman, and the level she is beholden to Leader Pelosi. Also, if Pelosi is so good at keeping her party "unified," why is it that 18+ Democrat members are in stark opposition to her becoming Speaker?
In weeks leading up to the election, Pelosi appeared at an event, saying "if there is some collateral damage for some others who do not share our view, well, so be it," calling for violence on Trump supporters. She has also made incoherent statements such as in 2010, when speaking about Obama's Affordable Care Act, saying "We have to pass the bill for you to find out what's in it," and claiming that "everybody will have lower [insurance] rates," which was proven untrue.
Is this who New Mexico has voted for, by proxy through Debra Haaland? Did Ben RayLuján suddenly sprout a clone out of the 1st Congressional District to be "The First Native American Yes Woman" to Pelosi and the Democrat Establishment?
Don't forget: Deb Haaland made an unrealistic and idiotically costly call for New Mexico to be at 100% renewable energy, citing New Mexico's "310 days of sun per year." She also has signed on to the far left's "universal health care" message, and the continuation of the Robert Mueller witch hunt on President Trump. The proposals made by Haaland reek of Pelosi's "San Francisco values," agenda, and are not those of New Mexico.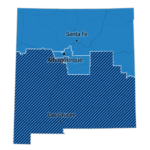 I hope that the people of Bernalillo, Sandoval, Santa Fe, and Valencia counties know that they just bought into Nancy Pelosi as their congresswoman by their votes for Haaland. There are some rough days ahead for the people of New Mexico, but at least we're not California, right? Well, I guess we might as well be, with Pelosi now representing the 1st Congressional District. 
The silver lining in Pelosi becoming speaker is that it could help Republicans boost our 2020 wins, especially since the likes of radical Maxine Waters, Adam Schiff, and Jerry Nadler will be chairing committees come January. The witch hunt against President Trump and prominent Republicans will begin with subpoenas, then congressional committee spectacles, and will end with the grand finale of a 2020 "Red Wave," hopefully big enough to wipe Haaland and many other Pelosi-propped members out of Congress for good.