On Sunday, South Bend, IN Mayor and presidential candidate Pete Buttigieg visited the million-dollar estates of Santa Fe, looking to make some money off of the deep-pocketed capital city transplants who have flocked from places like California and New York to help corrupt New Mexico politics.
Buttigieg attended a brunch hosted by "Gay Santa Fe," for high-dollar donors of 1,500 or $2,800 per person. The invite did not show much confidence in Buttigieg's ability to win the presidency, with organizer Mark Banham writing "Regardless of whom you may support during this Presidential primary season, Pete Buttigieg has proven to be an intelligent and compelling voice on the national stage. He will no doubt be an important part of the progressive leadership of our country for decades to come."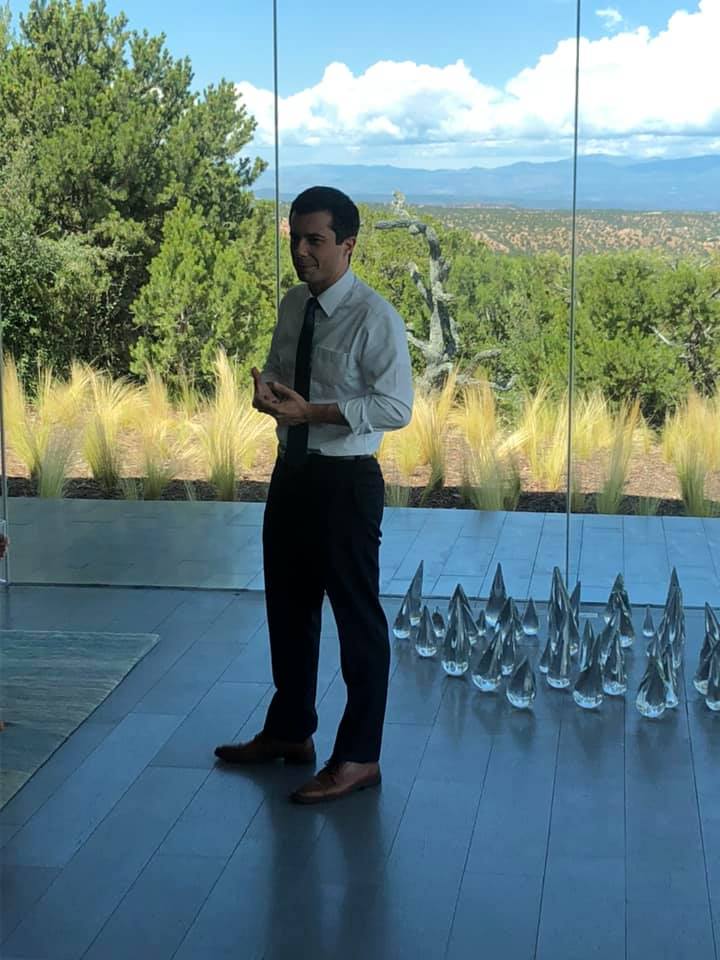 The event was described as "an intimate brunch at the home of Mickey and Jeanne Klein." The Klein's multi-million dollar glass mansion was designed by Ohlhausen DuBois Architects and is featured on the firm's website.

Ironically, Mickey and Jeanne Klein have made their millions off of "oil and gas exploration and production," although Buttigieg is in favor of the "Green New Deal," which would totally wipe out the oil & gas industry, murder cows, and force reconstruction of nearly every structure. If Buttigieg was truly all for the wacky environmental policy, then he would not be brunching with oil tycoons at their Santa Fe mansion. But, this is politics, meaning it's easy for the Mayor to say one thing, and do another with the blink of an eye.

The Kleins have given money to Joe Biden's presidential campaign, the max contributions to Mark Kelly's Arizona Senate campaign, Bernie Sanders' campaign, and Sen. Tom Udall, to name a few.
Ironically, on Sunday morning, Buttigieg appeared on Fox News Sunday with Chris Wallace, showing his outrage over the mass shootings in El Paso, TX and Dayton, OH, saying "Washington has been captured by special interests that no longer reflect the American people." It doesn't seem like the Mayor's own campaign promises and words reflect his actions if he says he supports the Green New Deal on one hand, then attends $2,800 brunch with oil tycoons.

Another event took place Saturday as well, not requiring thousands of dollars "at the extraordinary residence and gardens of Will Halm and Marcellin Simard for donors of $1000, $500, and $250. Donors contributing $1000 or more (regardless of event) will have the opportunity of being photographed with Mayor Pete." Halm is an attorney, who serves on the board of trustees at the private school Santa Fe Prep, while Simard is a cardiologist at Christus St. Vincent Medical Center.

The event was sure to bring out the many liberal transplants in the Santa Fe area, who have saturated the Captial City with deep-blue liberal policies, which have failed New Mexico for years.