If New Mexicans remember then-candidate Donald Trump's May 2016 rally, violent protesters threw burning bottles, chucked rocks and ravaged through police barriers, all while proudly carrying the Mexico flag.

Now, the same violent radicals look to disrupt President Trump's September 16 rally in Rio Rancho. New Mexico's radical Left began planning disruptions almost immediately, while others lamented the President's visit.

The Democrat Party of New Mexico posted on Twitter "Trump is coming to New Mexico. Stay updated about what you can do to oppose his hateful rhetoric #nmpol."

U.S. Senator wannabe Rep. Ben Ray Luján posted on Facebook an incoherent rambling post, calling Trump "racist" and "callous" for upholding American immigration laws while lamenting that Trump will be holding his rally in Rio Rancho, which Luján seems to just realize is in his district.
Immediately after it was announced the President would visit New Mexico, the far-left dark money group "Clearly NM" tweeted "get your sharpies ready," referring to protesters writing over campaign signs with left-wing phrases in a sign of protest inside the event.

On Facebook, a radicalized "Community Organizer" for the dark money anti-Trump group "Albuquerque Interfaith," and failed Albuquerque City Council candidate Javier Benavidez posted a call to his followers, explaining his plans to assist other left-wing radicals in "shutting down" the President's event through dividing protesters into "cells" for them to do "principled actions" to "shut down White Supremacy."
Ironically, a majority of the attendees at the rally (including yours truly) will be Hispanics, which shows just how clueless and radicalized Benavidez is in his schemes to "shut down" the rally. In the post, he wrote that he was surprised that he hasn't received a call from the FBI or the Secret Service, or that "Facebook has not shut this down."
In a comment to one of his posts, Benavidez tried to make the idiotic argument that the President's rally is somehow against the Hatch Act, which explicitly exempts the President from restrictions of his campaign activities due to the exposure of his office.

In a Facebook event called "Anti-Trump Protest Rio Rancho, New Mexico," left-wing radicals are apparently organizing by the 1,000's. According to Javier Benavidez, approximately 295 people are going to disrupt, while 1.5k people are "interested" in disrupting the President by blocking the roads. Dozens are prepared to chain themselves to light poles to shut down I-25.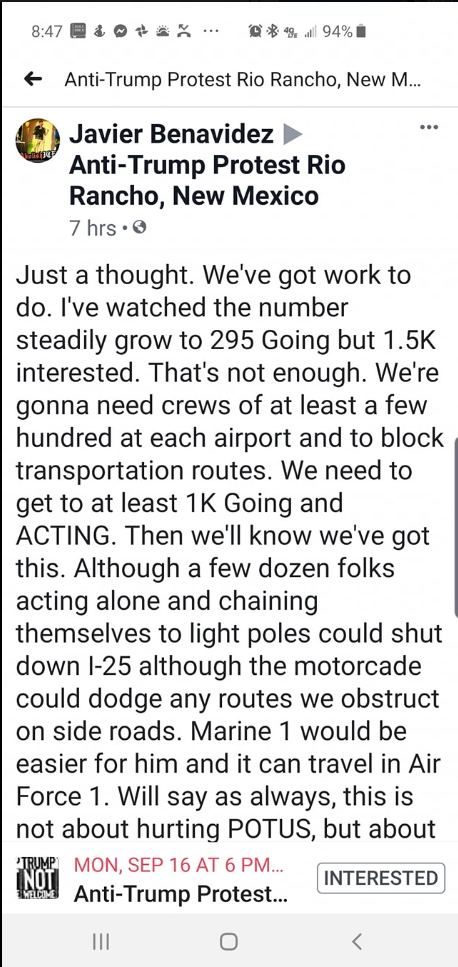 Others have suggested parking their cars on the highway and leaving them there.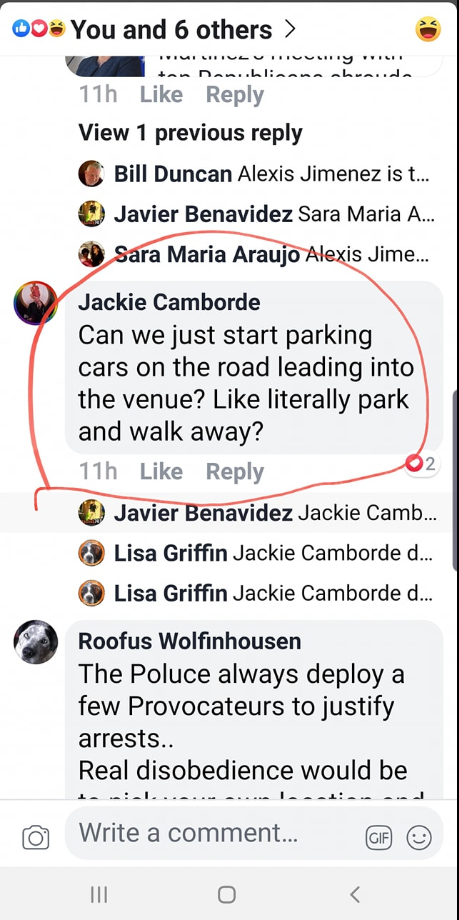 One person with rabid Trump Derangement Syndrome wrote on Twitter "Waaaay too much creepy these days. THEN I see trump planning visit to NM. Think Zorro Ranch is available."

These are just a few examples of the Radical Left looking to disrupt President Trump's rally, and it is up to all the attendees to be diligent to look for these radicals in the crowd around them. Although Benavidez' post calls for "nonviolent" protests, history shows us just how violent the protesters have been in the past, especially here in New Mexico, where attendees, including myself, were forced to walk 5-6 blocks around the Convention Center to escape the savage-like protesters in front of the May event.

To make sure one of these domestic terrorists do not hurt us at this event, we must be alert, and keep a watchful eye for these radical protesters, who want nothing more than to stop President Trump from making New Mexico great again.