After President Trump's massive rally in Rio Rancho on Monday that brought out upwards of 10,000 people, President Donald Trump's team met with local Hispanic and Latino voters at an event called "Vamos to Victory" at Albuquerque's Casa Rondeña Winery.

During the event, Trump's campaign manager Brad Parscale and senior adviser Katrina Pierson spoke to Hispanics about flipping New Mexico red.

Shortly after the event, failed gubernatorial candidate Diane Denish called for a boycott and protest of the winery, saying "I personally believe we shouldn't be doing business with people who underride someone who spews the kind of rhetoric that Donald Trump does," even though the winery had previously held events for Democrat Gov. Bill Richardson, who she served under as Lieutenant Governor.

Denish seems to have become radicalized in recent years, tweeting out her support for radical left-wing Democrat Ben Ray Lujan, who is running for U.S. Senate, as well as other political extremists, such as far-left CNN contributor Ana Navarro. Her Twitter bio reads "business owner, mom, granmother (sic), political, pro-choice, and early childhood activist."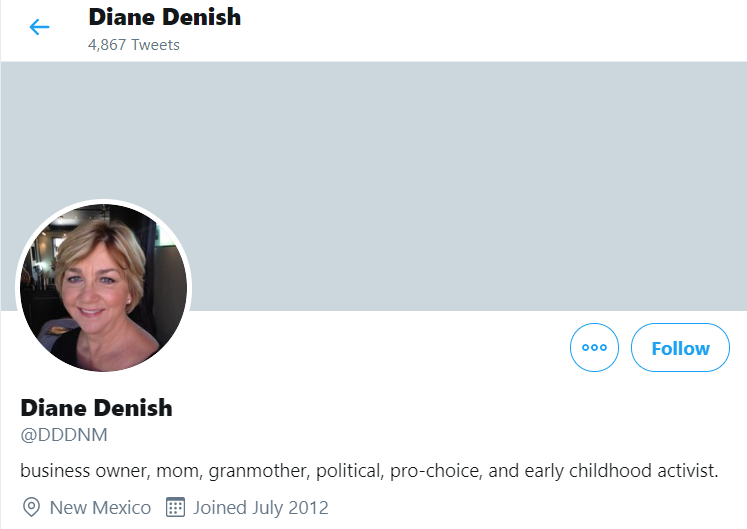 Denish advocated with Planned Parenthood and other abortion radicals for the passage of HB-51, which would have legalized abortion up-to-birth for any reason, strip out protections for women, and remove consent of parents for minors' abortions.
Despite being given the opportunity to run for Governor after winning her party's nomination in 2010, she was one of the worst candidates to ever grace the state, stammering through debates, and in one, saying "big fat boners," when trying to demean Gov. Susana Martinez. People on both sides raised eyebrows at her rhetoric.

But despite Denish's best attempts at trying to ruin the Casa Rondeña Winery, conservatives are stepping up to bat to show support for the owner, John Calvin and his business.

Just like Javier Benavidez and his cowardice to show up to the Trump rally to protest after Secret Service members went to his house, Denish will join him in the same camp of losers, failures, and hate.

Even though Javier Benavidez called all Trump supporters "white supremacists," 40% of the rally attendees were Latino and 31% Democrat.

Justing by these numbers, Democrats should be scared, as more and more people are walking away from the Left and its destructive past. No wonder Diane Denish and her radical Democrat friends are scared. They should be. Trump said "We really think we're going to turn [New Mexico] and make it a Republican state," and judging by his rally, he's on the right track.