The day before Thanksgiving, Deb Haaland sent out a nasty fundraising email, looking to cash in on a cheap jab at President Trump. Predictably, it was one so cheap and so low that it makes one question Deb's intelligence as both a policymaker and as a candidate.

Deb simply called Trump "racist." Yep, that's it.

The lazy fundraising email had three paragraphs and a photo reading "stand up to Trump." Apparently, Deb isn't even trying to be witty, catchy, or remotely clever.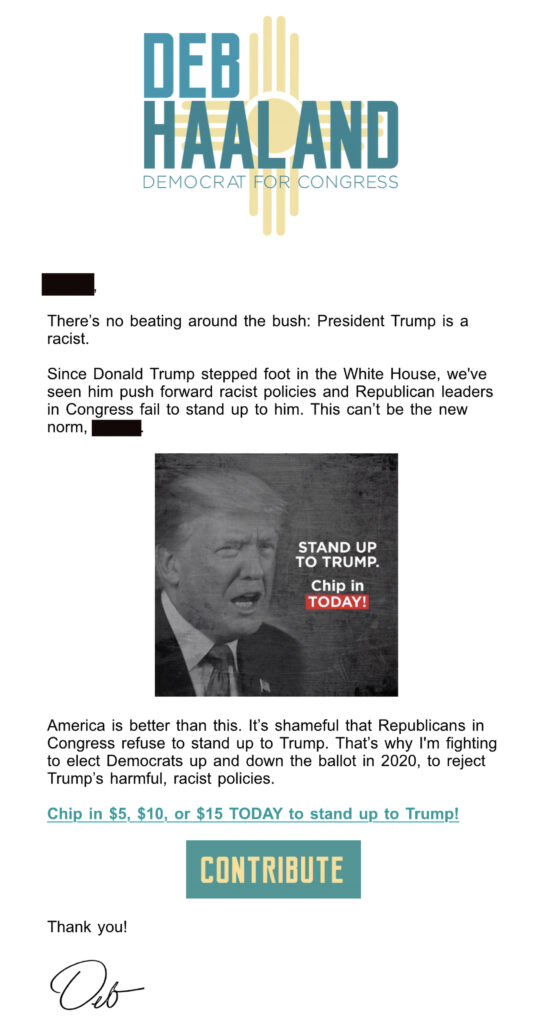 The email is also predictably desperate, reading "Since Donald Trump stepped foot in the White House, we've seen him push forward racist policies and Republican leaders in Congress fail to stand up to him. This can't be the new norm."

The word "racist" was pretty much copy/pasted in any pace where no substantial policy arguments could be made, and the donation page babbled on about how she's a Native American, so she somehow is now an expert on race.

Haaland is just the latest Democrat to use the unsubstantiated and sophomoric insult at President Trump after Ben Ray Luján sent out a similar email claiming Trump is racist.

If Trump is a "racist," he's surely doing a bad job at it, with record-low black and Hispanic unemployment, funding for historically black colleges and universities, criminal justice reform, over 40% of attendees at his September Rio Rancho being Latino, and signing an effort to combat the epidemic with murdered and missing indigenous women.

Haaland's cheap insult is nothing more than smoke in mirrors, and her use of the word "racist" to describe people who are clearly not racist, devalues the meaning of the word. If she really wanted to stop racism, she'd support job-creating policies that lift people of color out of poverty instead of keeping them dependent on the welfare state.
And she probably would be wise to not support Elizabeth Warren for President (a woman who falsely claimed to be Native American to advance her career).

Not a good look, Deb.
A Millenial candidate Jared Vander Dussen, a candidate who ran unsuccessfully for Albuquerque Mayor and Lieutenant Governor Michelle Garcia Holmes, and Brett Kokinadis are all competing to challenge Haaland in the 2020 general election. Democrat Cameron Chick is running against Deb Haaland in the Democrat primary.