Over the last week, I have heard arguments from both sides of the debate on whether "Drag Queen Story Time" should happen at the Albuquerque public library. Some say it is harmful to children because it exposes them to a sexual culture at a young age, while some call it a public display of "inclusion." It is of my opinion that this event is wrong, and letting children participate in it borders on child abuse.
My concerns stem from the fact that these seemingly-unvetted men in drag have been allowed into a public, taxpayer-funded library to read to children, with zero input from the community as to whether they approve of the event. There has been no tolerance for even the slightest objection from pro-family advocacy groups and citizens, with the city saying "no matter how many complaints they get, this event will go on."
The truth is that the drag queens who were allowed to read to little children are adult entertainers, who make a living off of sexually-explicit acts and services.
According to the Facebook pages of the drag queens who performed at the event, one of them who goes by "Bunnie Cruse" works as a "Jello Shot Girl" at the gay bar Effex Albuquerque, and as the "Head Stripper" at "Shake N Bake." The other one, who goes by "Vanessa Patricks" is a "performer" at the Albuquerque Social Club gay bar, and at "Eggs and Legs Drag Brunch," hosted at the Blue Agave Republic strip club.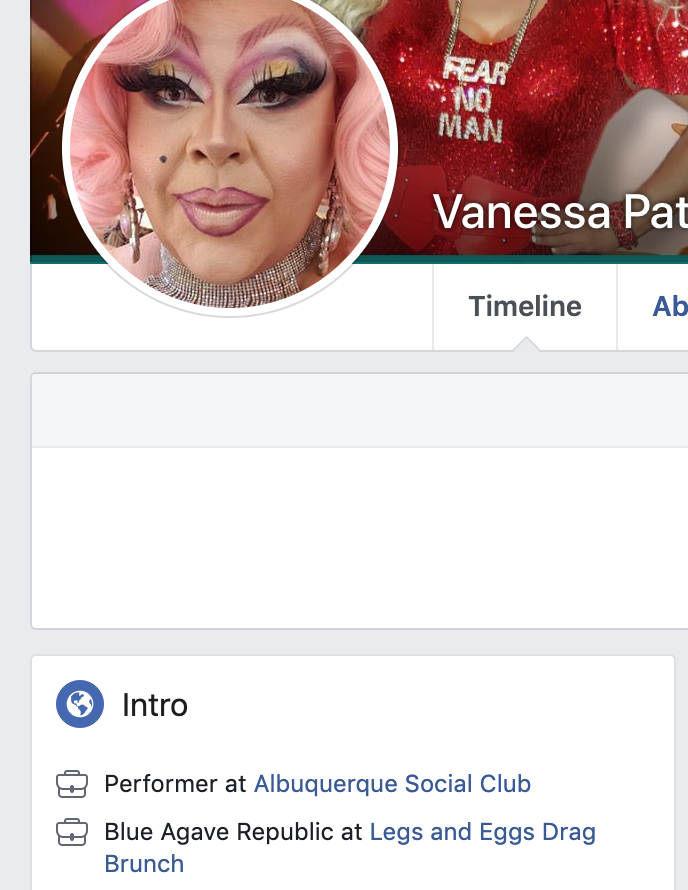 It is horrifying to think that young children ages 0-12 were not only allowed near adult entertainers, but their parents explicitly exposed them to this degenerate sexual culture. Apparently, common sense didn't grace the minds of the 100+ parents who attended this event. The Drag Queen Story Time seems to merely be a way for EQNM (the extreme "progressive" group sponsoring the event) to promote gay bars and strip clubs in the local area, judging by their choice of readers at the event.
Adrian Carver, the Executive Director of EQNM, said the story time is about "making sure that young trans and queer people are entertained by people who look like them and reflect them." How in the world would a kid from the ages of 0-12 be able to make life-altering decisions like what their sexual preferences are, much less mutilate their own bodies to become "trans?" Any parent who would condone their young child to do this has seriously questionable judgment.
Furthermore, it is insulting that so-called "public servants," elected to represent their constituents, have shunned all objection to the event from outside groups and citizens.
City Councilor Pat Davis, known for his vulgar "F–k the NRA" ad during his unsuccessful run for Congress, told KOB 4 news, "We are not shying away from the fact that there are gay families in Albuquerque, including mine and lots of others. They deserve to be represented in city services and city facilities just like everyone else."
If Davis really thinks strippers and self-described "jello shot girls" are in his definition of appropriate representatives for "gay families," then I seriously question his judgment as well. And where has mayor Tim Keller been on this issue? We know he is unequivocally for emblazoning city crosswalks with $30,000 rainbow stripes, so where is his response to citizens' opposition to Drag Queen Story Time?
It is not okay to confuse children with difficult concepts relating to human sexuality, much less allow them to be read to in a public library by strippers. I know I speak for countless New Mexicans when I say this kind of event is corrosive to pro-family values, and no child should be subjected to this, especially not by their city or by their own parents.