Amid New Mexicans dealing with the COVID-19 pandemic, a venomous new ad appeared on television stations in New Mexico spreading mistruths against former Rep. Yvette Herrell, candidate for New Mexico's 2nd Congressional District.
The ad, which claims Herrell bashed President Trump and that she attended an "anti-Trump soirée at a San Diego hotel," with the sources being disgraced Bloomberg News and an article from the Associated Press.
The Claire Chase-linked PAC, "Citizens for a United New Mexico" doesn't appear to be either "uniting" or "New Mexican," as key players for the PAC come from Massachusetts and the untrue attacks only appear to spread more disunity.
Butch Mathews, who runs the PAC gave the maximum primary donation ($2,800) to Chase, directly linking Chase to the PAC.
Claire Chase, another candidate for the Republican nomination in CD-2 previously said Donald Trump is an "a**hole unworthy of the office" and claimed to have voted for Gary Johnson in 2016. Her attacks against the President continued well after he began serving as President.
Claire Chase: Trump is an "a**hole unworthy of the office and the power of the President of THE United States."
Chase has deep ties to NeverTrump political consultant Jay McCleskey, well-known in the state for his "slash and burn" politics, destroying fellow Republicans (and the party) along the way to victory. McCleskey consulted on the campaign of failed congressional candidate Monty Newman who ran against Herrell in 2018.
Chase was Newman's treasurer for the race. In her current race for Congress, Chase has employed McCleskey's premier fundraiser Jessica Perez, who fundraised for projects such as the Susana Martinez-linked "Susana PAC" and served as Monty Newman's finance director. Anti-Trump former Gov. Susana Martinez had beef with Herrell in 2018, publicly bashing her and her campaign. McCleskey has liked multiple campaign messages from Chase, appearing to show his support for her candidacy.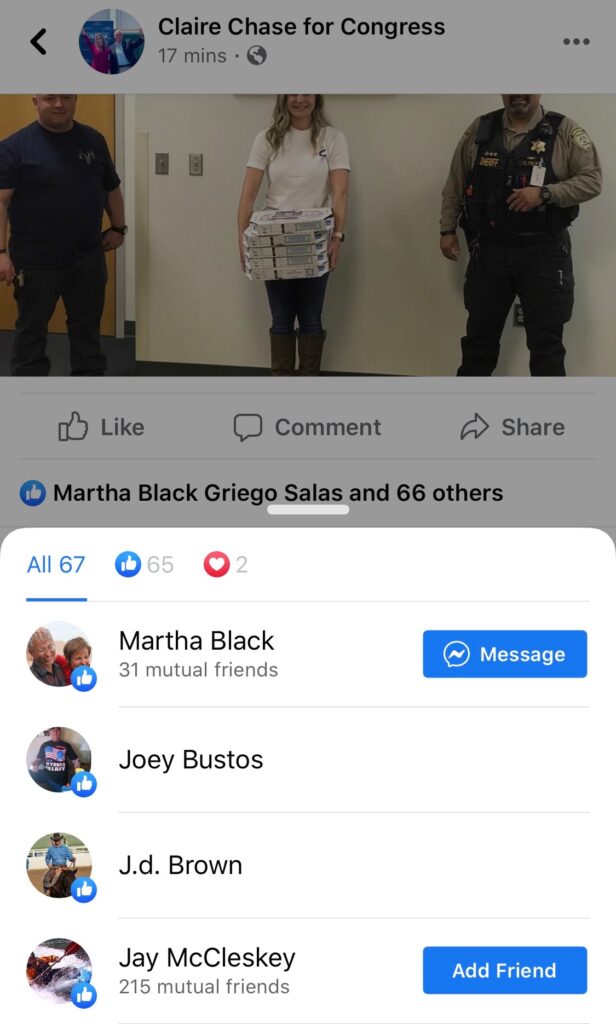 The new advertisement reveals two things: one, that the other side has nothing of substance to bash Herrell for, as the attacks are so paper-thin, you could blow them away like a feather. Two, nasty lies in the ad show the willingness by the Chase-linked PAC to stoop to whatever level if it means trying to damage Herrell.
First Attack
The first attack made in the ad is that Herrell "worked to undermine Trump's campaign for President." The untrue accusation cites an Associated Press article which shows Herrell forwarded an email someone sent to her by a Ted Cruz supporter, as the sender requested. The email in no way claimed Herrell supported Cruz's campaign. The email disseminated by Claire Chase's campaign appears to be a way for Chase to distract from her own anti-Trump comment calling Trump an "a**hole."
Second Attack
The second attack in the ad claims Herrell "used taxpayer funds to attend an anti-Trump soirée at a San Diego hotel where they hung a Trump piñata from the ceiling." The accusation fails to mention the supposed "soirée" was attended by the entire "American Legislative Exchange Council," the nation's leading association for conservative state lawmakers. The piñata was part of a booth at the conference. As a Trump supporter, Herrell in no way condoned such behavior, and the ad makes it seem as if every person in attendance (400+ conservative Republican legislators) did also. In attendance at the conference was former Arkansas Gov. Mike Huckabee, who has been a staunch supporter of President Trump.
Does "Citizens for a United New Mexico" also think Huckabee or all of the other conservative Republican members of ALEC supported the behavior as well? By making the accusation, it is like saying President Trump is anti-Trump against himself because one anti-Trump booth at CPAC criticized him. To say the accusation is thin is an understatement.
Third Attack
The third attack claims Herrell was "caught on tape bashing President Trump's leadership," yet again stretching the truth to the max to try and paint her as fighting President Trump. In actuality, what Herrell said was "We saw a lack of leadership when we had the House and the Senate and the Administration … We did absolutely nothing, and there are so many issues that could have been put to bed, that we could have addressed, that we haven't." The comment clearly shows the lack of leadership by establishment politicians stymying President Trump from progress when Republicans had control of the House and the Senate. Under Paul Ryan, Trump himself talked about how much more he could have accomplished if the anti-Trump former speaker would have worked with him.
While Claire Chase's campaign peddles blatant falsehoods against Herrell through her super PAC, Herrell has racked up many key pro-Trump endorsements from people such as Trump's Chief of Staff Mark Meadows, conservative, Pro-Trump Freedom Caucus member Rep. Jim Jordan, former Arkansas Gov. Mike Huckabee, the pro-life group Susan B. Anthony List, the strictly pro-Second Amendment American Gun Owners of America, among a laundry list of pro-Trump legislators and conservative organizations.
Herrell clapped back at Chase's attack, writing on Twitter, "The decision by Claire Chase's Super PAC to run a false attack ad against me is disgusting, especially while we all focus on this current crisis. These false attacks from Claire's desperate Super PAC should be immediately pulled from the airwaves."