Congressman-turned New Mexico GOP Chairman Steve Pearce won a vote of 276: 101 at today's state central committee to lead the Republican Party in the state. In recent weeks, Pearce faced opposition by many in his opponent John Rockwell's camp, with calls for "fresh blood" in the New Mexico party, and other such rhetoric.
I have fought for a long time for the Party to look for new leadership, stating in 2016 that "the leadership is very tired … I don't see us door knocking. I don't see us putting up signs." The New Mexico GOP ground game has been weak, and many at the top in the recent GOP leadership have not done their part of growing the party by reaching out to people in communities not typically associated as "Republicans."
Chairman Steve Pearce has been a great advocate for New Mexico in Congress, putting us first, even if it meant being ostracised by Party leadership to do it. In 2015, under the Obama Administration and a GOP Congress, Pearce stood in opposition to a vote that would "leave Congress with the power to vote up or down on trade deals but with no ability to amend such deals. That authority would help President Obama more easily ink the proposed 12-nation Trans-Pacific Partnership with Pacific Rim nations."
Pearce was booted from the GOP Whip team because he refused to vote for the measure, but his response defined just how much he cares about our state :
"I have a moral problem with this because you're asking me to tell folks back home, not only did I vote against the [trade] package … but you're asking me to say, I allowed you to bring it forward in a separate fashion knowing full well the intent afterwards."
After this vote, I spoke with Congressman Pearce at the 2016 GOP Republican Convention and thanked him for standing up for us, even if it meant he would be booted from the post. From that moment forward, I have given him my loyalty as a supporter because I know he has the best intentions for our state.
I may not agree with Congressman Pearce on everything, such as his opinions on President Trump and the border wall with Mexico; however, I respect him because he stands up for his convictions and unapologetically loves our state. I support him for the same reasons I supported him in Congress and for his gubernatorial run: He doesn't give a damn about the job title, instead, he wants to help the people. When in his announcement, he stated, "I seek the chairmanship of the Republican Party of New Mexico not for the title, but instead for the opportunity to help create a new beginning for our party and a path to prosperity for our state," you better believe I began supporting him.
Steve Pearce has countless other accomplishments in Congress, including his sponsorship and cosponsorship of 87 bills that became law, and his tireless support for military veterans throughout their service and into their retirement.
Pearce has also been a fearless advocate for the Oil & Gas industry, which holds up our economy. With the recent discovery of "the largest pool of oil and gas reserves ever announced by the USGS anywhere in the U.S." in the Permian Basin, which stretches across southeastern New Mexico into Texas, Pearce's knowledge with the industry is crucial in the role as Chairman to make energy a leading issue. Pearce is a man I deeply respect, and a man who I am proud to support. I would go as far as to say that Steve Pearce is truly a man of greatness.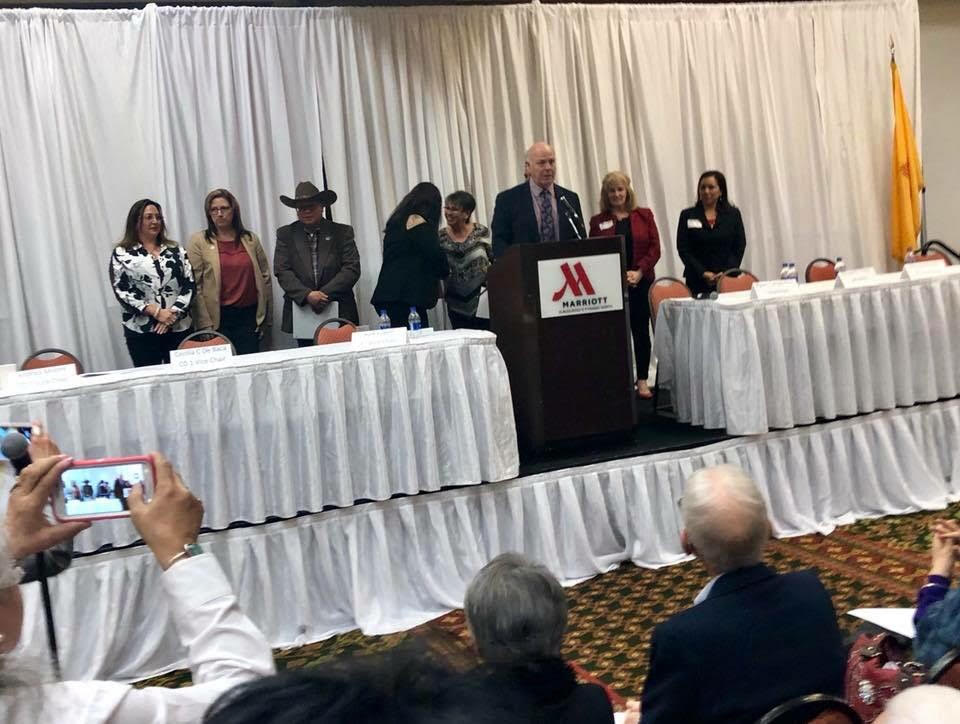 I pray for Steve Pearce as he takes the reigns of our party, and leads us in a new direction. I ask the folks who supported John Rockwell to come aboard and help Pearce make New Mexico a greater place through electing Republicans across the state. Only united can we bring New Mexico back to the state we once knew. Yes, I am asking every one of you to help Steve Pearce and the entire Republican Party MAKE NEW MEXICO GREAT AGAIN. We can and will do it!